Refuge Forums
Duck Hunters Refuge Forums
What are thoughts on having to do detail work on the blue bill decoys?
Wondering what binoculars everyone is using for scouting waterfowl and taking in the field?
Anyone have a good recipe or style of cooking to share... ???
I finally figured out a reasonable setup for using one decoy for both a Texas Rig set, and a Main Line set. Takes about a second to switch out rig.
I woke Zac up at 5:45 and asked him if he wanted to go dove hunting with me. He popped up with a big smile on his face and said "YEAH"!
Just sitting here at work wishing it were duck season.
Thought I would share my gadwall trio I got done this last season.
Look closely and you can see the International Space Station passing the sun's face...
What is everybody's food/beverage to eat in the blind ?
Morning Fellas -
Well, its finally started. We got this old log cabin for my Missus' last Nov. for her birthday. Turns out, it was from her mothers' side of the family 150 yrs ago, but didn't know it until after we bought it. She has always wanted one but we had no idea how to put one up. A good friend of ours did and he volunteered for the project.
What a job this is. And, let me tell you, these old Popular sticks are HEAVY!
The dims are approx. 15 x 16 and will be about 7 1/2' tall on the in-side walls. We will have a front porch of some size, depending mainly on what size old timbers and barn wood I can scrounge.
so far, its taken 3 full days to get it this far.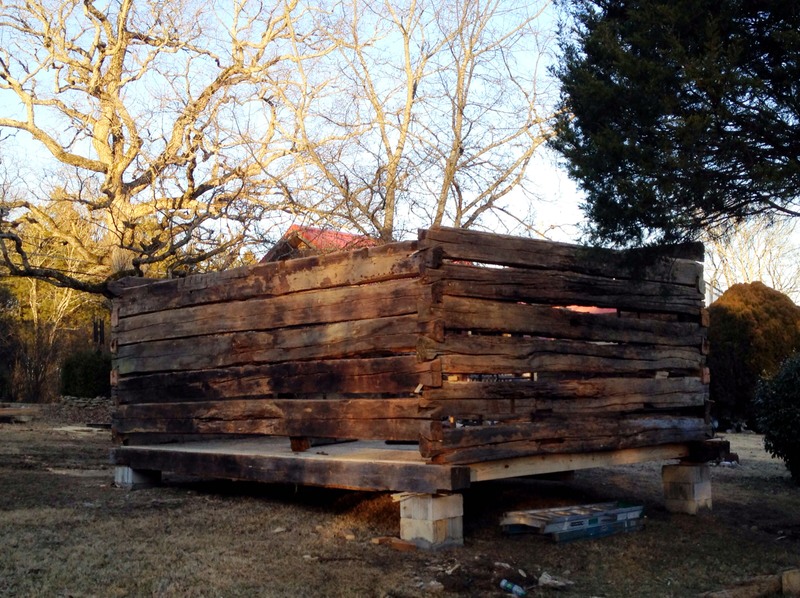 I reckon we'll start on the roof trusses next week. Then the chinking. She sure is a happy camper. Little Maggie Mae will have a nice cool spot to sleep under the porch.
I hope this project don't get in the way of Crappie Fishin'.....
Me, Maggie, & Stuff'........
Activity at the feeder has gone up as they are getting ready for the big migration.
The Guardian of the feeder
Some Juveniles
Mike